VBS (Vacation Bible School)
Hello, to all you youth pastors, community outreach specialists, activity leaders, and so on! Got your Vacation Bible School picked out for this summer? We can't do that for you. But we can help with just about everything else you might need for your VBS. Well, on the mundane supply side; at least!
Office supplies, and other essentials.
We have a wide selection of support items. You know, the unseen, important ones you don't realize you need until you run out…things like, fasteners. We've got your tape, putty, staples, hot glue guns, and magnets. Lanyards? Got it! Yardsticks, rulers, tag-board, labels, paper cutters, staple pullers, and don't forget laminating! We also have a pouch laminator if you need harder plastic for things like name badges and bookmarks!
Cut down on valuable volunteer time and frustration.
Sure you can print out that nifty clipart, color, laminate, and mount it; but wouldn't you rather be doing more important things? We can help. See if we have the shapes and items you need, already ready for you. View our die cut, full color accents here. Need to say something? Letters here. We have some precut ones, no more punching out!
Tip: Doing Cokebury's Hero Central VBS this year? Or the Super God! VBS Series from Abingdon Press? Teacher Created Resources has a whole squad of products that match perfectly! Carson Dellosa has some good ones from their "Super Power" line as well!
Want a quick and easy background? Use our pre-printed design rolls. We have the 4×12 foot sizes in store, but we can order them in 4×50 size! That a lot of stone walls!
Tip: Background paper is pretty sturdy and fade resistant, so use Mavlous to stick it up, then roll up and use again! Putting it in a tube will keep in perfect condition until needed again. Want to get the maximum possible use out of it? Cut in two foot section and laminate them! Use something like Stikki Dots to hold it up without damage to your wall or the paper.
Ready for craft time?
Need supplies? We have a whole lot to offer, with competitive prices too! Need big paper? We have easel rolls, and if a one foot or eighteen inches isn't wide enough, we have two and four foot rolls. Premade bookmarks? Foam shapes? Poster board? Beads and bead cord? Got it. Don't forget about construction paper, newsprint, as well as paint & glue! We have the last two in gallon size, (and optional pumps) if you're anticipating a big group…
We stock construction paper in single color packs, so need a lot of blue? You can just get blue. (Navy or sky?)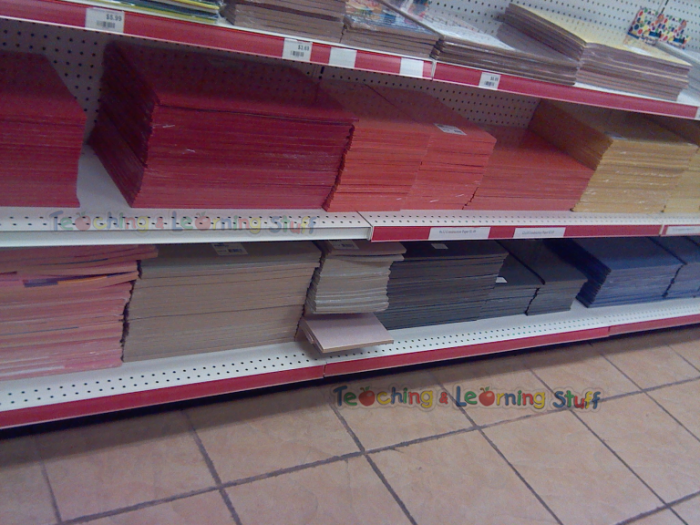 Tip: Doing Mighty Fortress by CPH or RBP's Over the Moat? We have pre-cut crowns in white and metallic gold. Just unsnap and go! Want a more budget friendly alternative? Nab some gold or silver scalloped border, cut to fit and staple. Simple! We have a great price on "gems" right now. Pick up a one pound bag for only $15.99. (That's a lot of gems!)
Incentives and rewards for your VBS.
Sometimes we all need a little extra motivation. Like say, stickers? See your local store for the biggest selection. (We have about twelve feet here at the Mesa location.) Also we have incentive pads for tracking progress. View here online. Need washable stamping pads for crafts, or hands? How about a treasure chest and goodies to fill it? We can set you up.
Do have a look at our online catalogue! You can ship direct to you, or call a store and have them order for you, with in-store pickup to skip shipping. Got a store near by? Stop in anytime. We're always happy to help!