A Great Big Post About Thinking Putty
AKA, Thinking Putty 102. Ready to dive deeper into our favorite Non-Newtonian fluid?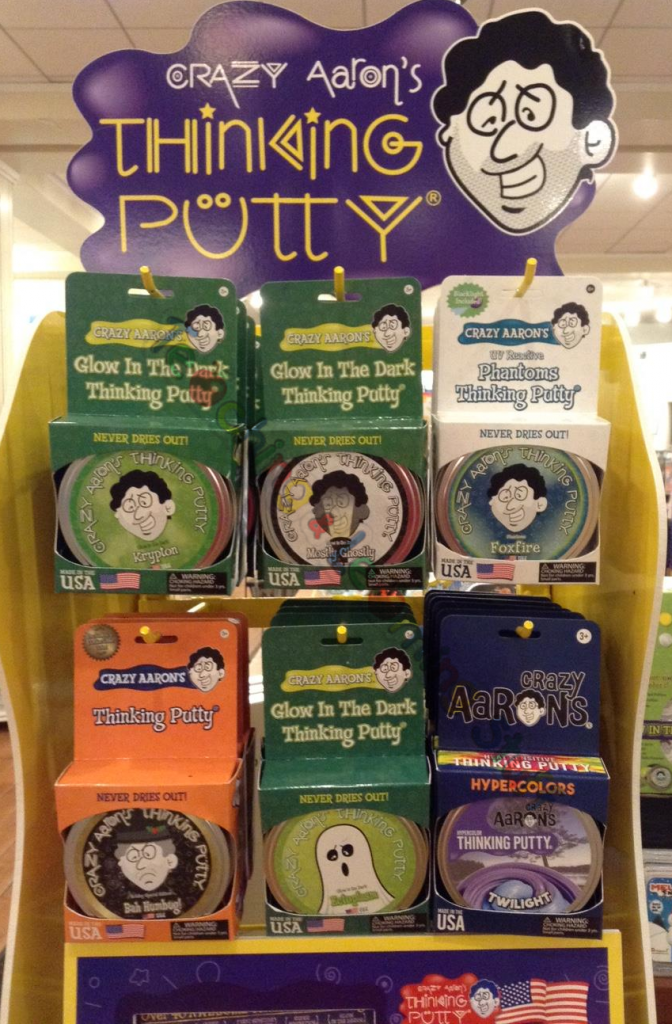 A few hints, tips and ideas to help you get the most out of your Thinking Putty!
---
Magnetic Thinking Putty
The magnet inside the tin will be totally engulfed in Thinking Putty by the time you open it. Rip small amounts off from the side until you unearth an edge, then you can peel it back and dig out the magnet block. It will make more sense when you get it in front of you. Trust me. (Or you can get one of our steel block magnets or the wand and use that, maybe?) We have a lot of magnet toys. Just add putty….
UV Reactive Phantoms
Did you know you can find mini UV lights on some invisible ink pens? We usually have them in the winter, but it never hurts to check. Just ask any sales associate if we have the secret writers or invisible ink pens. Psst! One more secret about Phantoms; whatever you've written or drawn on it will glow in the dark! Try it out and see!
Thermochromic Hypercolors
A.K.A.- the heat sensitive color changing ones. Is your hand not hot enough for a fast change? Use a cup of hot beverage. (Or a cold soda, here in AZ) Put part of your Thinking Putty in the freezer. Do keep it out of the microwave, stove, toaster, curling iron, and so on. But a quick blast with a hair dryer should be just fine…just be careful not to pick it up if it gets too hot, OK?
Super Illusions
What do an oil slick, a lava pit, and insect anatomy have in common? It's something called thin-film interference, which is caused by light waves that are reflected and refracted by a veiled or structurally complex coating. Often called iridescence, this phenomenon causes all of these things to shift colors right before your eyes.

Puttyworld
It's easy to pass these by as "boring" compared to some of the others. But Illusions have their own particular charms. Not only are these, in my opinion, some of the most mesmerizing to watch; they all have a memory effect. Roll into a coil, twist, fold…then watch it move in slow motion while the colors shift. Try it! We usually use a tin of Super Scarab as a store sample for a reason…
Precious Metals and Gems
While they lack the same color shifting iridescence as Super Illusions, they share the same memory effect. Instead, they are rich glitter and vivid colors. Pretty fair trade, in my opinion. These are some of the most "grown up" looking tins and colors. Need a desk toy that doesn't appear childish? Try these. (We still have some of the glamorous Art Deco style tins, for you Gatsby fans out there.)
Glow in the Dark
Exactly like it says on the tin. Charge it with light, indoors or out. Pull it out of the tin and knead it a bit to get more light in it. You can use a UV light/glow charger to really rev up the process. Got it charged? Great! Now pop the lid off or use a clear container to shine a light on the dark corners of your bag, drawers or cabinets…or anywhere you want a little more light in your life. Perhaps play "hide and seek" by stashing chunks of putty around a room? Or use it in a scavenger hunt.
We have the "Made by Me" kits!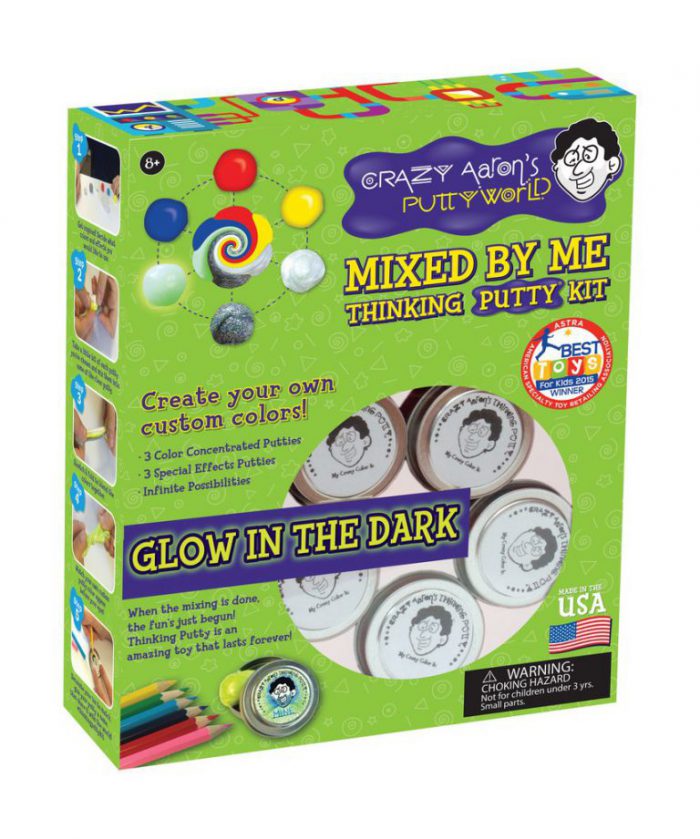 Inside is everything you need to make your own putty colors, but if you want to extend the fun? Grab a tin of liquid glass, the clear putty, for more mixing adventures. Or why not see what happens if you add in another putty? The mini's are great for this!
Speaking of Liquid Glass…
It's truly amazing stuff, but has a few special "care and feeding" requirements, so to speak. (Don't worry though, it's even easier than an ant farm!) Because putty cannot be washed, it needs to stay extra clean. Try to keep it closed in the tin when not in use, and wash you hands first!
Putting down a sheet of waxed paper* on your table or other surface would be a great idea. Or just give it a quick wipe down first.  As you play with it, it will get firmer, and may get cloudy. The white haze is due to trapped air. It should go away on it's own, but putting the tin somewhere warm, like a windowsill, or by the hot water heater, etc; will speed up the process.
*I have been reminded that putty can stick to regular paper. Please use wax paper instead – you know,the non stick stuff. Your author regrets the error.
Taking Thinking Putty to school or work?
I highly recommend the mini-tin. It's pocket sized already. (With the nice price of $2.99, you can get a different one for each day of the week…or instead coordinate with your mood or even your outfit!)
Want a little more putty then that? Or a style that doesn't come in the small size? (Magnetic, I'm looking at you.) Pick up a set of small snap lid containers, and plop a portion inside. (Remember, rip quickly or it will stretch instead!) Now, take your new pocket putty with you! You can find them at most dollar stores, or the kitchen section. (Try asking if they stock "magnetic spice jars", not only will you get a tightly sealing tin, it'll have a magnet on the back!)
Traveling with Thinking Putty?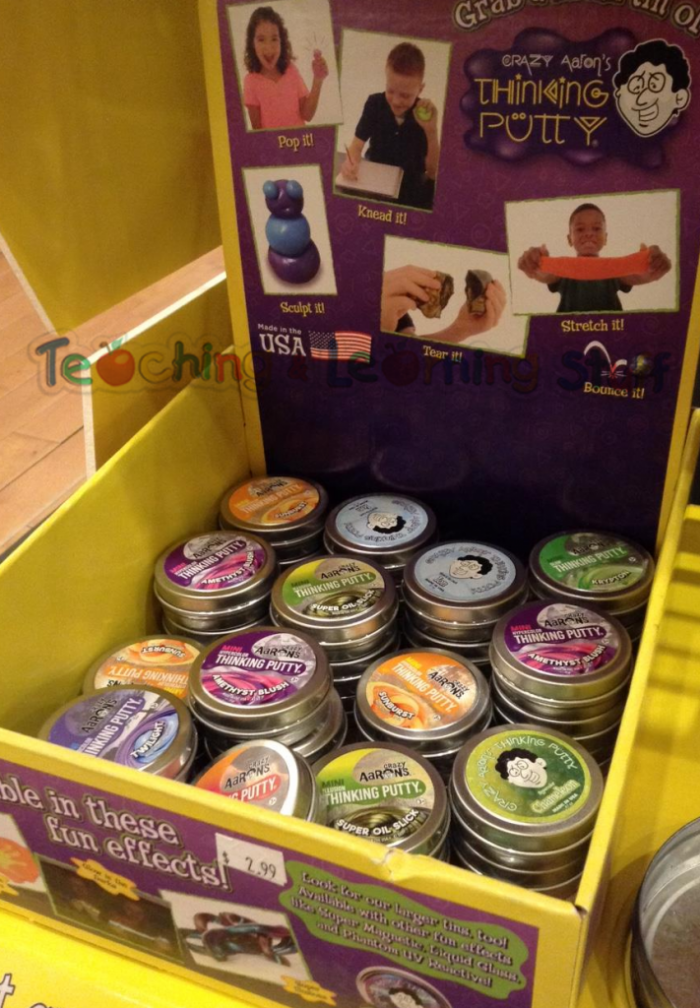 Stress and boredom happen when traveling. Thinking Putty can help relieve both. Please don't try to chew it to pop your ears. It may be non-toxic, but it's still not edible. The TSA says you can bring 'putty balls' in both check and carry on. Just to be safe, I'd bring the original tin and pick one that's less than 3.4 oz /100 ml. When in doubt, mini!
Want Thinking Putty but can't come in? Call a store, and we can arrange ship it direct to you! Have a question, comment or hot putty tip or trick? Drop us a line here or on Facebook!
taxo
after taxo