Cat in the Hat for President!?!?!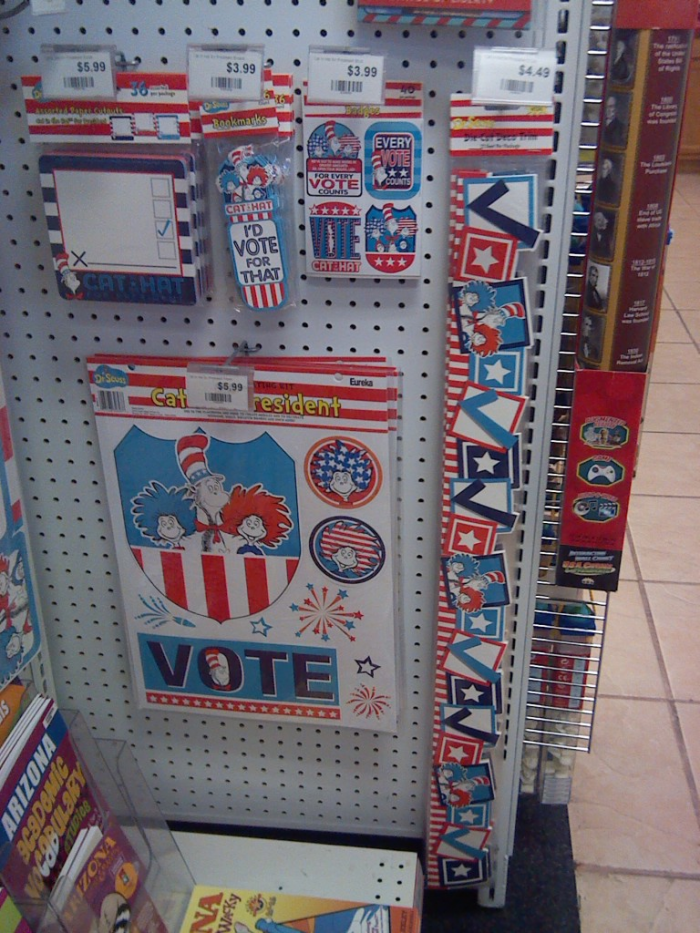 Cat in the Hat for President? Yes, Dr. Seuss's flagship feline is running for president of the United States. As the kid's candidate; that is. Penguin Random House has a website, and has a great trailer to promote their new candidate. (And his new book, of course!) We have the perfect stuff to go with it, and your election year lesson plans!
Eureka has launched a  line of coordinating Cat in the Hat for President items. Including a banner, a very nice bulletin board set, as well as handy "I voted" stickers. A truly enjoyable way to talk about this year's Big Decision…or learn about the electoral process any year! Already got a Seuss theme going, perfect! Even if you don't, this lighthearted take on the theme is fun for just about anyone.
We've put together a sample board for you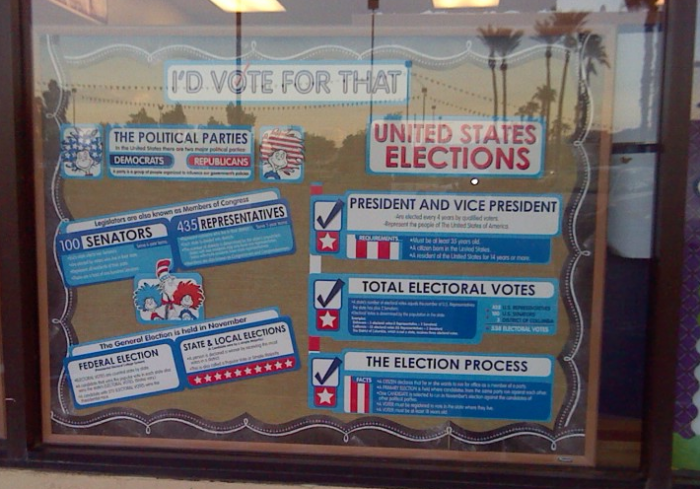 Featuring:
Cat in the Hat™ for President Mini Bulletin Board Set
Chalk It Up! Dotted Swirl Bulletin Board Border
Burlap fadeless paper.
A bit cramped, but still looks good! I think it would look better on a bigger space with some <item> mixed in. A fun and non-threatening way to talk about a very important subject. The mini-set is simple but effective. Cards give an overview of the process, and give definitions for some of the most important facts and terms.
Well, I can honestly say "I'd vote for that!"
A few idea seeds
If the cat in the hat was really running, would he even be eligible? Have a debate..or make a newspaper…etc.
Why not hold an election for president of story-time (or the library). Let the kids pick a rival. Or maybe use an existing book character. Cat vs Clifford, anyone? This idea is big enough to get the whole school involved…
Potentially useful links
Official website. Contains a section to vote on which real life organization will receive a donation. Act quickly! The website might disappear after the vote is done! How will your class vote? Has a hashtag too- #Catinhat4prez.
Here is the video of the live announcement from Seuss's home in Springfield, Massachusetts. Includes some charming wordplay and costumed characters.
Here is the official announcement video.
Not a Seussian? It's OK, we've still got you covered
taxo
after taxo