Fidget to Focus With Tangle

What happily lives in the toy box, a pocket, executive's desk and therapist's office? Meet Tangle. Each one is composed of ninety-degree curved pieces that pivot and can be snapped and unsnapped. Equal parts art and toy, this versatile family of products has as many uses as styles.
The Original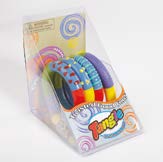 Also known as "Giant Tangle". Big and beautiful, with 2.5-inch textured links. Fits on a desk, but this will be just as home on a bookshelf or passed around. This one is big! It easily wraps up and down an adult's arm and is big enough for more than one set of hands. This is the only member of the family that's safe for under three-but better for four plus.
Meet Jr.-the Biggest Little Tangle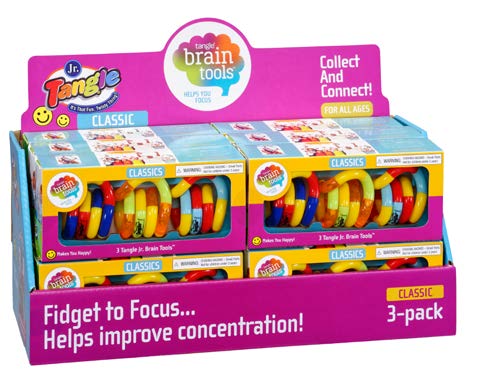 Jr. is small enough to fit in an adult's pocket. If you need a smaller coil, just unsnap and size to fit. Or simply wrap around your wrist…or forget that and connect them instead! And so many options to customize your coil, too! Different textures, and many colors, even metallic! We're stocking the three pack in stores, pick one up and sample three kinds of fun at once! A very popular pass around item for reading aloud time!
Tangle Hairy is Fun!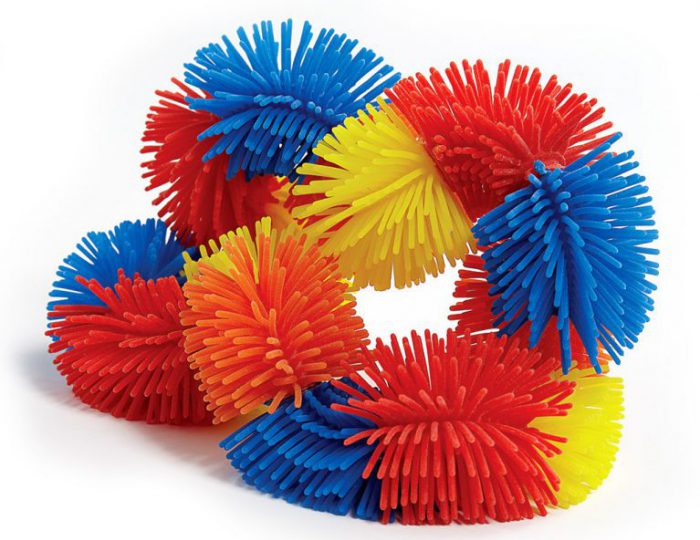 Looking like a refugee from the Muppet show, Hairy is definitely an eye catcher. It's probably my favorite Tangle, so much so that I avoid picking them up; because I know If I do I won't want to do anything else for at least five minutes. Hairy simply a Jr with a rubbery "fur coat", which can be removed. This gives the Hairy truly unique feel, and the undulating exterior combined with Tangle's signature motion makes it hard to put down.
The Very Rare Fidget Item That's Received FDA Certification-Tangle Therapy.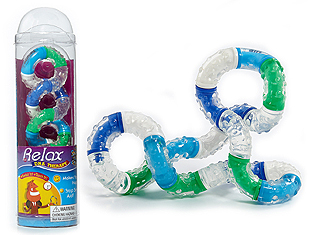 The Therapy line has been issued a "Medical Device Establishment Registration" (#3004511013) by US FDA for the following specific uses:
Stop Smoking Aid
Removes Minor Stress
Improves Range of Hand Motion
Restores Motion of Joints
Improves Muscle Performance
Strengthens Finger Muscles
Rehabilitates Hand Muscles and Joints
So, unlike our other fidgets, this one is serious business. Please don't let that stop you from picking one up for personal enjoyment, of course! Read more about it here!
Brain Tools: Fidget to Focus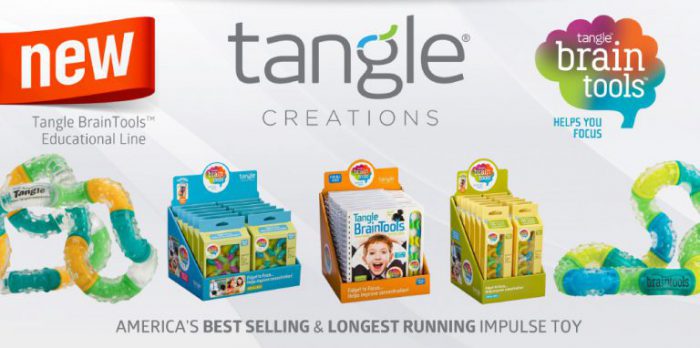 Finally, to round out Tangle's line of purposeful play is the Brian Tools line. We have the Learning with Tangle Brain Tools kit, a guide book that teaches how to use the attached Jr to kinesthetically teach math, reading, and more. Designed with all learners in mind, the book includes adaptations for different needs. Also available are Brain Tools "Think" and "Imagine", each with rubbery, latex free texture and bright color.
Currently, Tangle is available in store only! I'll add links when it becomes available in our web catalog.
taxo
after taxo