Ready set, slime!
Want to get hands on with the non-Newtonian fluid that's been making a splash for the last year? (Well, more of a splat, but who cares?)
Stop on in! Firstly, we now have clear glue in pint and gallon containers (currently in store only). We also have regular washable glue as well. Secondly, grab some glitter glue, to make easy glitter slime, or liquid watercolor to add color to your creations. Finally, do you need wiggle eyes or need glitter in one pound bottles? Got it. Pop by the art aisle for more ideas!
Don't want to fuss with glue? We have kits, with options from neon to scented. As a matter of fact, we also have a limited stock in store of galaxy slime, as well as the popular alternative: Thinking Putty*.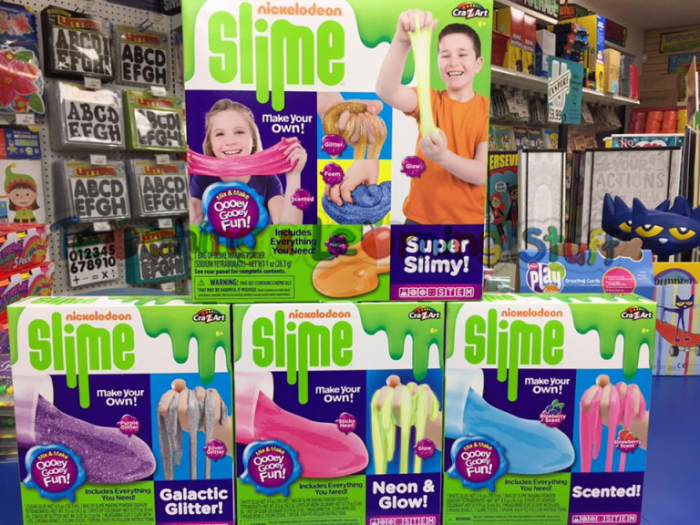 Squishy, stretchy, sensory, and…STEM?
What does slime have to do with STEM? Plenty!
Science. Lot of science here. Chemistry all over the place, in addition to physics. Slime can be used to teach such concepts as- viscosity, Newtonian fluids, chemical handing, polymer bonds and more!
Technology? Yep. Use the internet to pick out a recipe, or publish your findings.
Engineering? Try combining it with simple machines, or design and build a maze to run it through. What about a way to move it from point a to b without touching it with your hands? Can you invent a maker machine? Remember, engineering is all about finding problems and then solving them.
Adding Art? Take pictures, or video, mix colors, sculpt with the stuff…or blow bubbles.
Bring the Math in by talking about ratios, measuring, and in addition, you can drop it and graph the splat!
Finally, it's just straight up fun to make and play with. Many people (adults included) find squishing and handling slime soothing. There are many ways to bring scent, color and texture to the finished product, adding to the sensory satisfaction.
Please don't lick the science!
A quick and gentle warning. There are reports of children getting burns after making slime. Most of the reported ones are young slime sellers, who are handling the items for hours at a stretch. Please follow all precautions. Children have thinner skin than adults, and thus are more easily affected.
Consider using gloves or covering little hands with a plastic bag when handling borax and other chemicals. This goes double if they have anything affecting the skin, such as cuts, sunburn, scrapes, etc. And wash hands thoroughly before and after. Feel any burning? Rinse with cold water and call poison control immediately.
According to sources, vinegar can dissolve slime. This is also worth experimenting with, and anything that makes cleaning up easier…
In conclusion, remember non-toxic is not the same as edible! Be safe, and have fun while learning!
*Thinking Putty fans, your time on the blog is coming!
Some great links for you!
Time for Slime – Chemistry for Kids
Fun at Home With Kids: The Science Behind Slime
taxo
after taxo