Feeling adding a bit of local color to your décor? Want to teach about the unique biosphere that is the Sonoran Desert? Or missing the Grand Canyon state? We've got a quick roundup of items with that southwest feeling.
Spotlight on the Southwest
New in stores! Just the thing for Cinco de Mayo, a lesson on Mexico, or even just Taco night
Fiesta Steamer:
Big, bold letters in warm colors, hinged to hang evenly or arc gracefully. Each letter is topped with sombreros and decorated with chilies and other designs. Almost three feet long, and includes string for hanging.
Fiesta décor packs: we have two!
The first is a pair of over sized maracas, a fancy "gold stitched" sombrero and a colorful donkey piñata.
All are about seventeen and a half inches.
The second pack is four good sized vignettes; a bull piñata with a pair of maracas and Olé sign, a saguaro sunset with a Fiesta! banner on a colorful rug, a folk art guitar with flowers, and a straw sombrero with serape. Runs from about fourteen inches to nearly twenty!
Inta-theme Desert Pack:
Ready to put the southwest up on your walls? Cacti, coyotes, vultures, tumbleweeds, and more, oh my! Printed on large, transparent plastic sheets for easy layering. Beautiful, realistic art. Twenty-nine motifs on five large sheets. Ready to use outdoors (or in damp environments) with no laminating needed! You will need to cut everything out, but nothing special needed. Using on windows? Why not try double sided tape for a clear mount?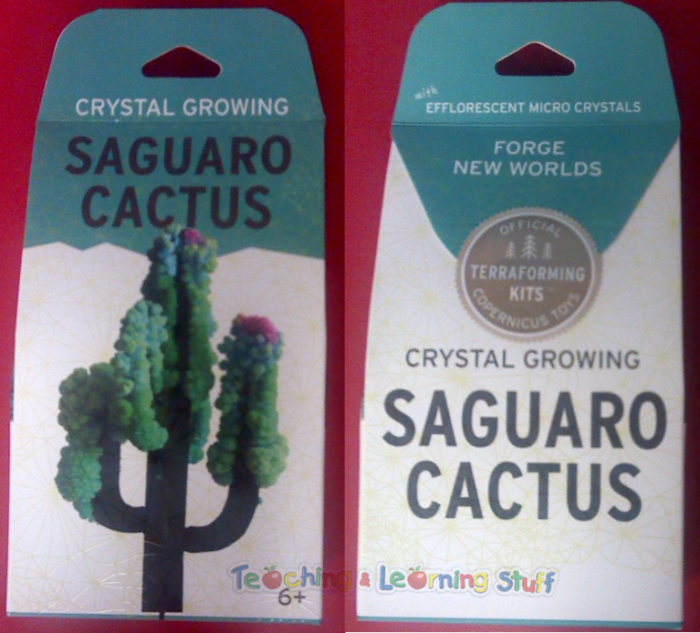 Crystal cactus kit:
Ever grow one of those 'magic (Christmas) trees'? This one's a cactus. The sleek, retro cool packing is a plus. (I wasn't able to capture the nifty geometric designed embossed on the front) Learn more about the science behind the process here or here. A nice, non-seasonal alternative, with a lot of local feel!
Don't forget about some old southwest favorites
Jointed Saguaro:
Huuuugee! This is a four-foot three-inch tall cactus. It's in full bloom too! We usually keep one on the backroom door. Sturdy, easy to assemble, and fade resistant. Would be fun to use a 'signpost' or even a puppet! Add some wiggle eyes to give them funny faces, or some decorations for the winter, or just use for a difficult to fill space.
Scholastic Dessert Mini Bulletin board set:
Real photos of animals and plants, with label cards. Also a fun "Desert" banner and an activity guide! Many uses! Use them for reports, or to label groups or items. Why not mount them on foam board for stand-ups?
Folkmanis® puppets:
Well made, sturdy, and soft hand puppets. Great for display, but even better for play! Use them to tell a story or supplement your lessons. Here are some critters from the southwest.
Wolf/coyote- every story needs a villain or just a carnivore.
Jackrabbit – probably the best way to get up close and personal with these shy creatures.
Pack-rat– a bit on the whimsical side, this rodent has a removable backpack.
Wondering where the cowboys have gone? That's another post. Keep an eye out!
taxo
after taxo